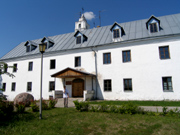 Within the second phase of long-term strategy for reconstruction of Aglona Basilica complex the renovation project of Aglona Abbey will be performed. In accordance with LR legislation the project is being implemented in two stages- outline design and detailed design.
During outline designing there were principal architectural and planning solutions, general framework of necessary worked out taking into consideration historical peculiarities and further development objectives.
The outline design phase was completed on April 2007. At the moment company is working on the technical project development.
In the building of the abbey the following group of premises is proposed: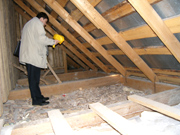 — Facilities for reception and accommodation of guests and pilgrims;
— Cooking facilities and dining-hall;
— Library, museum, archive, cinema hall and conference rooms;
— Office facilities;
— Auxiliary rooms (ventilation chamber, heating unit, gear rooms etc.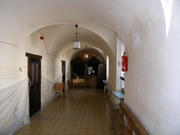 Some changes in existing structure of premises are necessary to fit new requirements of fire fighting: additional evacuation exits, proper width of staircases and passages etc.
The replacement of all existing engineering systems such as ventilation, water supply, waste water and heating is included in the scope of services. As alternative the geothermal heating is proposed. .
The first steps of the project -Engineering inspection of existing structures, detailed photo-report and measurement drawings. During the investigation works there was a need for some specific preliminary examinations and special technical solutions identified , e.g. damp-proofing of old foundations to avoid raising of capillary ground water.