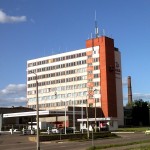 Daugavpils Driving Chain Factory was built with the expectation of production of 24.8 million. meters of auto-, moto- and bike-chains and 2.5 mils. pairs of bike pedals annually.
Planned number of employees - 3260 people.
Master plan includes a clear division into three zones: pre-production zone for the administrative and utility facilities, industrial zone and an auxiliary zone.
Total reconstruction area was 32 688 sq.m.
The scope of work included:
- Reconstruction of the facades;
- Reconstruction of the roof;
- Reconstruction of two-level light windows;
- Installation of fire wall;
- Construction of utility premises;
- Reconstruction of existing sanitary premises;
- Development of infrastructure for transport routes;
- Lightning protection;
- Placement of technological equipment;