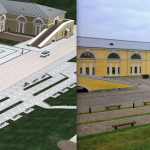 As a result of reconstruction works in the Daugavpils (former Dinaburg, Dvinsk) Fortress, Arts Centre of Mark Rothko was has been put into operation. ARHIS won the tender for the designing comprehensive project for the reconstruction of the place, which consisted of the following stages. The project was funded by EU.
- Pre-design ( comprises historical and cultural analysis of the old building its technical and architectural examination, determination of technical requirements and photography of the building and so on);
- Design;
- Endorsement and expertise;
The ARHIS experts carried out authorial and technical supervision from the start of the reconstruction works.
The Mark Rothko Center is situated in the building of the former artillery arsenal. The Daugavpils (Dinaburg, Dvinsk) Fortress was founded by the Russian Emperor Alexander I in 1810 before the war with Napoleon I with the aim of enforcing the western borders of the Russian Empire.The arsenal building occupies a block bordered by the Michaila, Nikolaja and Imperatora streets. The inner side of the building has two ramps leading to the first floors of the wings. The ramps used to be smooth which allowed for the carts to easily take the loads to the first floor. To the west to the building there are Michailovskiye Gates of the Fortress; on a hill not far from the Arcenal there is Jesuitical collegium and private houses along the Michailovskaya street; Nicolayevskiye Gates and water-lifting are to the left.The building was founded in the period between 1820—1830 and designed by A.Shtaubert. Now it is included in the list of state-protected architectural monuments. The primary functions performed in the artillery arsenal were maintenance, repair and storage of fortress firepower, i.e. cannons and mortars. In the Soviet period there was cadets canteen, later barracks. After the college was disbandment 1991 building was abandoned not heated, damped and became exposed to other harsh weather conditions.
In accordance with the concept the exhibition or Mark Rothko's paintings devoted to the Dvinsk of the 20th century will find its home in the walls of the centres. Also the premises of the centre will house temporary exhibitions the modern art, painting funds, workshops, conference centres, hotel, restaurant etc.
Mark Rothko (September 25, 1903 – February 25, 1970) was an American painter of Latvian Jewish descent. He immigrated with his family from Dvinsk (now part of Latvia, then part of the Russian Empire) to the United States in 1913 when he was 10 years old. He is classified as an abstract expressionist, although he himself rejected this label, and even resisted classification as an "abstract painter".
Now the center is being furnished, equipped and expositions are being prepared for the show-off.