The modern guest house with a conference center is located in Riga district, Adazhi parish, estate "Saknishi" and occupies 3 hectares. The land plot is located on the shores of Lake Mazais Baltezers, partly in its buffer zone.
The building is designed in the coastal zone with a rough terrain descent to the lake.
Guest house usable floor area - 2988 sq.m
Conference center usable floor area - 704 sq.m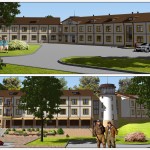 Guest house with a gable roof consists of two parts blocked at an angle of 135°. They are joined in the central part which resembles a stylized lighthouse. Facades are ascetic with a hint of country or retro-style.
Landscaping solutions are developed with the provision of minimized damage to existing trees. On the territory there are beach areas with summer recreation decks, universal space for active recreation, children's playground and a boat dock, deer park, roads, paths and parking lots for guests and visitors of the restaurant.