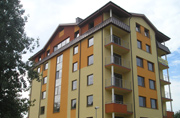 The new multi-apartment house is located in the area of Novoje Stroenije , next to the buildings of Riga Technical University, Culture and Sport palace and supermarket "Supernetto", in the area with a highly developed infrastructure. From the windows you will have a lovely view to the lake and park, where the adults can enjoy evening walking over the comfortable paths, and kids will have good time going for a cycle ride and roller-skating.
Basic parameters:
- Land plot area -1940m2;
- Number of floors - 6;
- Number of apartments - 24;
- Number of storage rooms- 24;
General Data:
- Storage room for each apartment (separately registered in Land book as real property) and recreation area with sauna and training-room (joint property of all apartment owners) on the ground floor;
- Elevator with stops from the ground floor up to the 6th floor;
- Balcony in each apartment;
- Radiators equipped with heat regulators;
- Each apartment has separate meters for heat and cold and hot water consumption ;
- Exclusive rights for the parking lot.
Technical economical characteristics:
- Apartment area - from 46,5 to 100,8 sq.m. ;
- Auxiliary room area - from 3 to 7,1 sq.m. ;
- Recreation area - 59 sq.m.;
- Constructions works were completed in July, 2007.
All information about purchase conditions and requirements is available on Raina street 26B, tel. 5426349, 26147580, e-mail: nadia@arhis.eu Project manager: Nadezhda Giptere