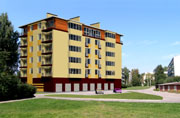 As the 3rd phase of the house-building development in March 2006 company "Arhis" started the construction of 6-storey 25 apartment house with 16 garage boxes on Stadiona  street, 6B.
The apartment building is built on the base of author's design in the centre of City in the residential area limited by Kandavas, Stadiona and Stacijas streets.The total area of the land plot for construction works is 2123 square meters. The access to the house is carried out from Stadiona and Stacijas streets.The building-up inside of the residential area protects the house from the noise of highways. Easy access to the public transport allows to reach any district of the city quickly and in short time.
Main parameters:
- Land plot area - 2123 sqm;
- Number of floors - 6;
- Number of apartaments - 25;
- Number of garage boxes - 16;
- Modern lift;
- The construction was  completed  in April 2007.
All information about the project is available on Raina street 26B, tel. 65426349, 6147580 e-mail: nadia@arhis.net
Manager of the project: Nadezhda Giptere