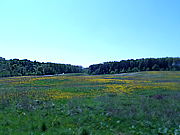 If it's important for you to live in co-ordination with rhythms of nature, if you would like to exchange the noise and fuss of the city for the freshening breeze of nearby pounds and the wholesome forest air - this is the proposal for you! We offer the land lots for the construction of villas and private residences, where you can either spend the summer time or live there all the year round. It's time to start working and realize the ideas.
Nearby Daugavpils, in 15 minutes of driving from Daugavpils city center, the architectural-engineering company "ARHIS" is developing the new villa estate "VILLACIEMS" on the land lot with total area of 21 ha. The land lot is located in the south -east part of Latvia, on the territory of Medumi community, between Latvian Daugavpils and Lithuanian Zarasaj.
The territory of "VILLACIEMS" is divided into 27 separated land plots, each with total area from 0,35 ha up to 2,38 ha. All the land plots differ from each other with total area and relief, that gives the future owners the opportunity of various landscape design. Some of land plots are bordered on pounds; the fond of forests can choose the forestlot.
The "VILLACIEMS" is situated in 12 km from Daugavpils city center, towards Medumi and in 13 km from Zarasaj and borders upon the motor road Е-262. Not far from the estate there are Medumu, Svetne, Duras, Bogdanu and other lakes. The village harmoniously fits into the surrounding landscape, preserving the delights of nature balance. On the territory of "VILLACIEMS" there are created four scenic pounds, - the ideal places for walking and recreation. In few kilometers from the village there is the well-known skiing resort "Eglukalns".
Near the entrance into the the village, on it's south-eastern part, right next to the Zarasaj motor road there is the area of 2,4 ha for commercial usage - shops, restaurant, guest parking.
The total cost of each land plot includes the value of direct land plot where is allowed the construction of private residence, inner roads with driveway to each land plot, the power supply to each land plot, the land planning works. The total cost of land plots starts from 5 EUR/ sq. m.
At present time it's possible to make reservation of land plot.