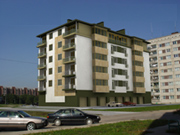 The new multi-apartment dwelling house "CASA VERDE" is going to be the first stage of the planned multi-apartment dwelling complex "Park House Rugeli" in Rugeli district, which includes the construction of two 6- to 9-storeyed apartment house "Double House" and 12-storeyed apartment house "Lighthouse" with terraces and underground parking area.
"CASA VERDE" - is a 6-storeyed apartment house with 25 apartments and 16 garage boxes on the ground floor. The building is developed under the author project of architectural-engineering company "ARHIS" .
The variety of the proposed apartments is  wide and interesting. There are offered 2-rooms, 3-rooms and 4-rooms apartments with total area from 55 to 98 square meters, with  balconies  or big terraces.
Technical economical characteristics:
- Number of apartments - 25;
- Number of floors - 6;
- Number of garage boxes;
- Modern elevator for 8 persons;
- Land plot area - 3500 sq.m.;
- Apartment area - from 55 to 96sq.m.;
- Construction works are completed in June, 2008.
All information about the conditions and requirements for reservation and purchase is available on Raina street 26B,
tel. 65426349, 26147580, e-mail:nadia@arhis.eu
Manager of the project: Nadezhda Giptere