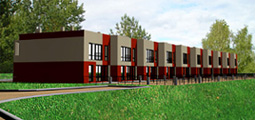 One of the new projects of "Arhis" - complex of the townhouses We offer the unique opportunity to live within city limits, using the existing infrastructure of the district, the closeness of public transport, grocery stores in conjunction with advantage of the private house - individual services, separate entry and garage entrance, backyard, usable roof, etc.
The land lot for the complex of townhouses construction with a total area of 3136 sq.m. is located in the Vidus Pogulyanka district, bordering with Ventas street. The land lot is surrounded with scenic forest. On the land plot there is planned to build ten in-line two-storeyed houses, as well as to obtain the area for engineering services.
Each house with a total area of 165 sq.m. will have the living room, joined with kitchen and dining-room , quests washroom, garage, service premise, terrace and barbeque area on the ground floor, and three bedrooms, two spacious bathrooms and terrace on the first floor.